Beautiful make up starts with beautiful skin! As a make up artist, skin care is really important to me in my work and my personal beauty routine.
A while ago on Instagram, I saw a really cool Korean face mask called HANACURE The All In One Facial. It's a face mask that works on tightening your skin, which cansometime makes your face look a little freaky!
Being the skincare junkie that I am, I just had to get my hands on one… A couple of days later my mask arrived in the mail
I looked on the HANACURE website and found that the mask is dermatologist tested, has peptides and botanicals that help calm the skin, and brightens and helps to fight signs of ageing. Find out more about the Ingredients here.
I'm a huge fan of first impressions in beauty… So the first thing i did was go on Instagram Live to take my followers along for the ride.
There were quite a few laughs on the live stream that day because my face was getting tighter and more strange looking by the minute.
During the 30 minutes I wore the mask, I was constantly giggling while looking at that face I didn't recognise. I've since learned that you're supposed to minimise facial movements while wearing the mask (No talking & No giggling) as moving your facial muscles can cause the mask to crack witch could cause irritation and redness.
While wearing the mask I felt a slight warming and tightening of my skin… but nothing that was uncomfortable. Anyway I washed the mask off at the 30 minute mark and what I saw was pretty red but very firm, plump skin!
I had read that this mask may cause redness and irritation but that it will go down within 90 minutes… The redness did go away, and I was left with the most gorgeously gleaming skin! My skin was totally dry to the touch but looked a little wet because it was so shiny and glossy! That did it for me… That was the exact moment I got hooked.
For best results you should use this mask on clean dry skin… minimise all facial movements while using the mask… and remove it with your hands and warm water (not an abrasive face cloth).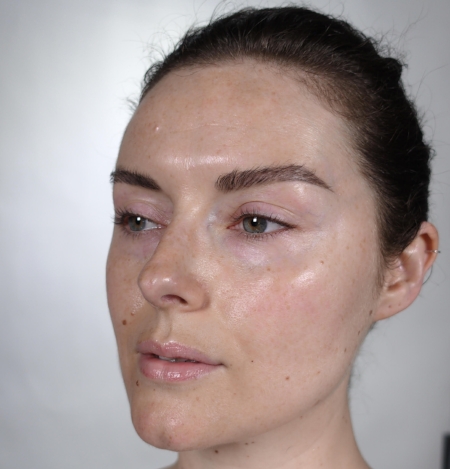 Normally I like to hydrate just a little bit after taking the mask off, then continue my skin care routine as normal and put my make up on.
I find that after using this mask, I have the most beautiful glow to my skin that lasts a few days.
I really think this is a product worth checking out… and for many of you it may become a cult favourite.
Take a look at my video review. Hope you enjoy it!
xo
Katie