I've never really had acne prone skin (knock on wood)… I have always looked after my skin and not really done too much to it. I was once told that the more product you use to fix the problem the worse the problem can get… so I've always kept it pretty simple.
When getting a break out, I tend to pick and mess about with it… which is the worst thing you can do! .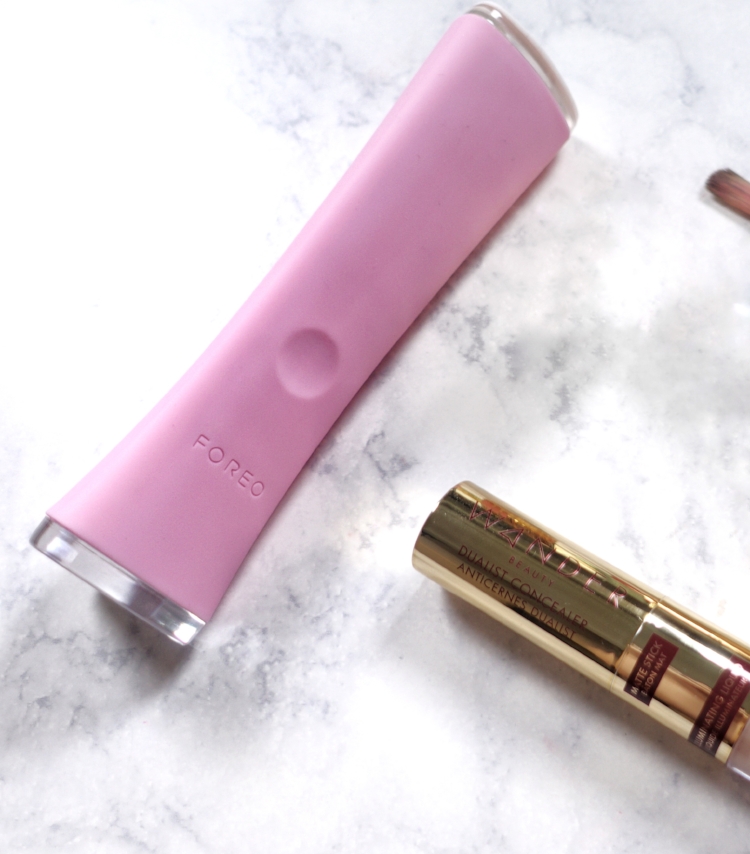 A few months ago, I was visiting my beauty editor friend… She was showing my some go the goodies in her beauty closet, when i noticed a cool looking pink device. I was intrigued… fast forward a few months and the brand reached out to me about trying the device out for myself… and possibly working together on a social partnership to celebrate the launch of Espada in Sephora.
I love to partner with brands that are pro healthy skin, as that's a huge part of my aesthetic as a makeup artist.
I got my Espada device and immediately tried it out in the back of a cab (I'm a beauty junkie what can I say)…
The first thing I noticed was how easy it was to use! There was red a spot brewing on my chin… One of those ones that feel a little sore to the touch… so I tried my Espada on it for a few days and It actually went down… it totally stopped it in its tracks.
I love the sleek design and how easy it is to hold… and it looks great on the vanity.
Espada by foreo is an acne – clearing blue light that targets the bacteria deep in the sebaceous glands to work on the spot at the source.
It has a cool red light target that helps you line it up on to the pimple you want to treat…
Upon contact with skin it vibrates and the blue light kicks in… it treats and vibrates for 30 seconds, then you simply move on to another area you wish to treat.
You can use a few times a day.
I'm will continue to use the Espada whenever I see first signs of a break out… I'll be take one with me to shoots for use on talent if necessary.
I'm excited that Foreo have given me an Espada to give away to one lucky winner! So click here to enter.
For more info on the Espada by Foreo, check it out on Sephora … It Launches July 3rd, 2017.
Katie x4 Likes